Scoot and Ride Helmet Lemon XXS-S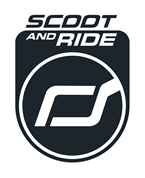 Safety first! Lightweight Scoot and Ride children's bicycle helmet for the little ones. The helmet has a magnetic safety switch and an LED light on the back for safety in the dark.
The color of the helmet matches the Scoot and Ride Lemon scooter.
Head size: 45-51 cm
Size: XXS - S
Weight: 240g
Unless otherwise stated, all items offered in the online store are available.
All orders after payment are processed and shipped within one to two business days.
Free reception: Riga, Upeņu Street 19 (Purvciems) - takes place by prior arrangement by phone or in writing.